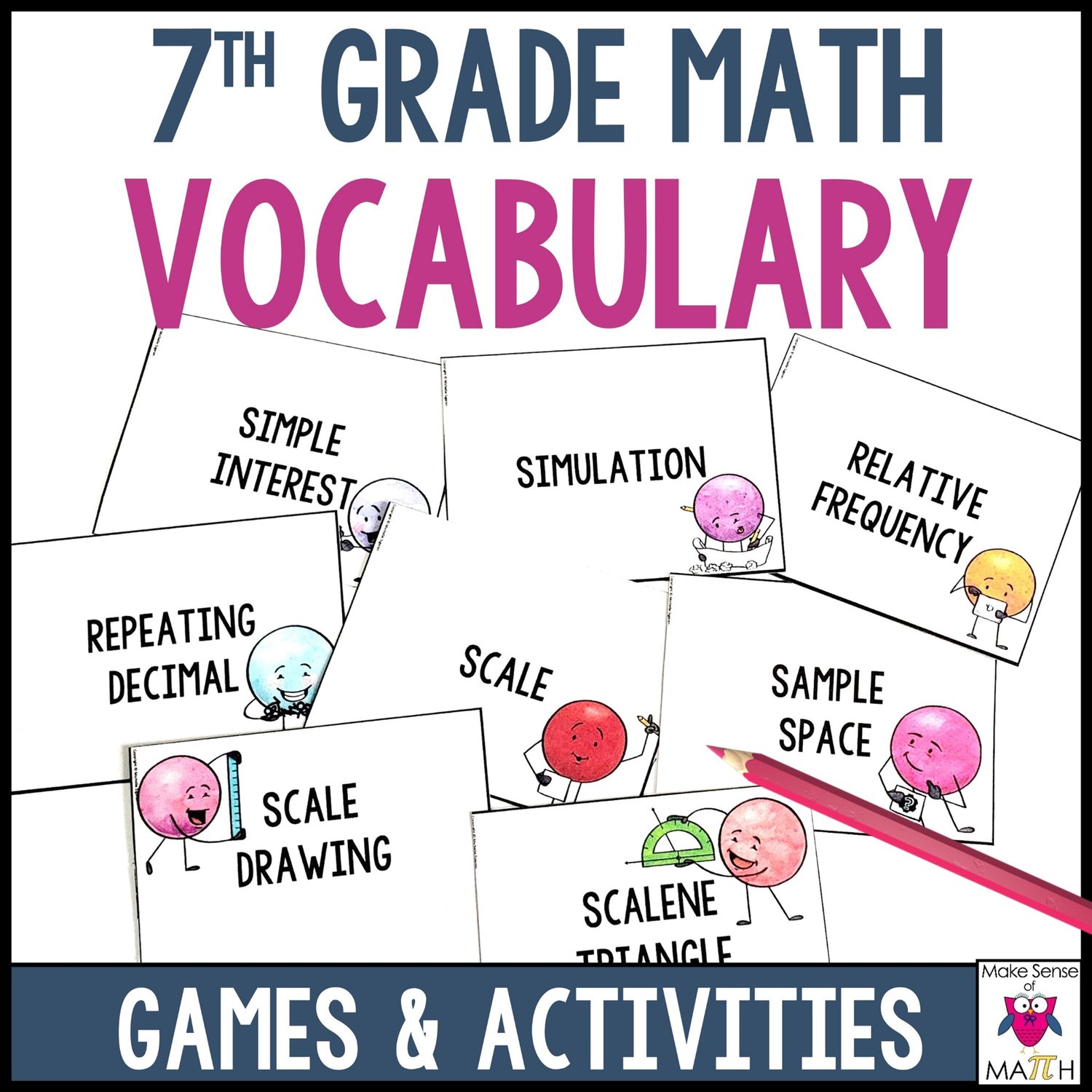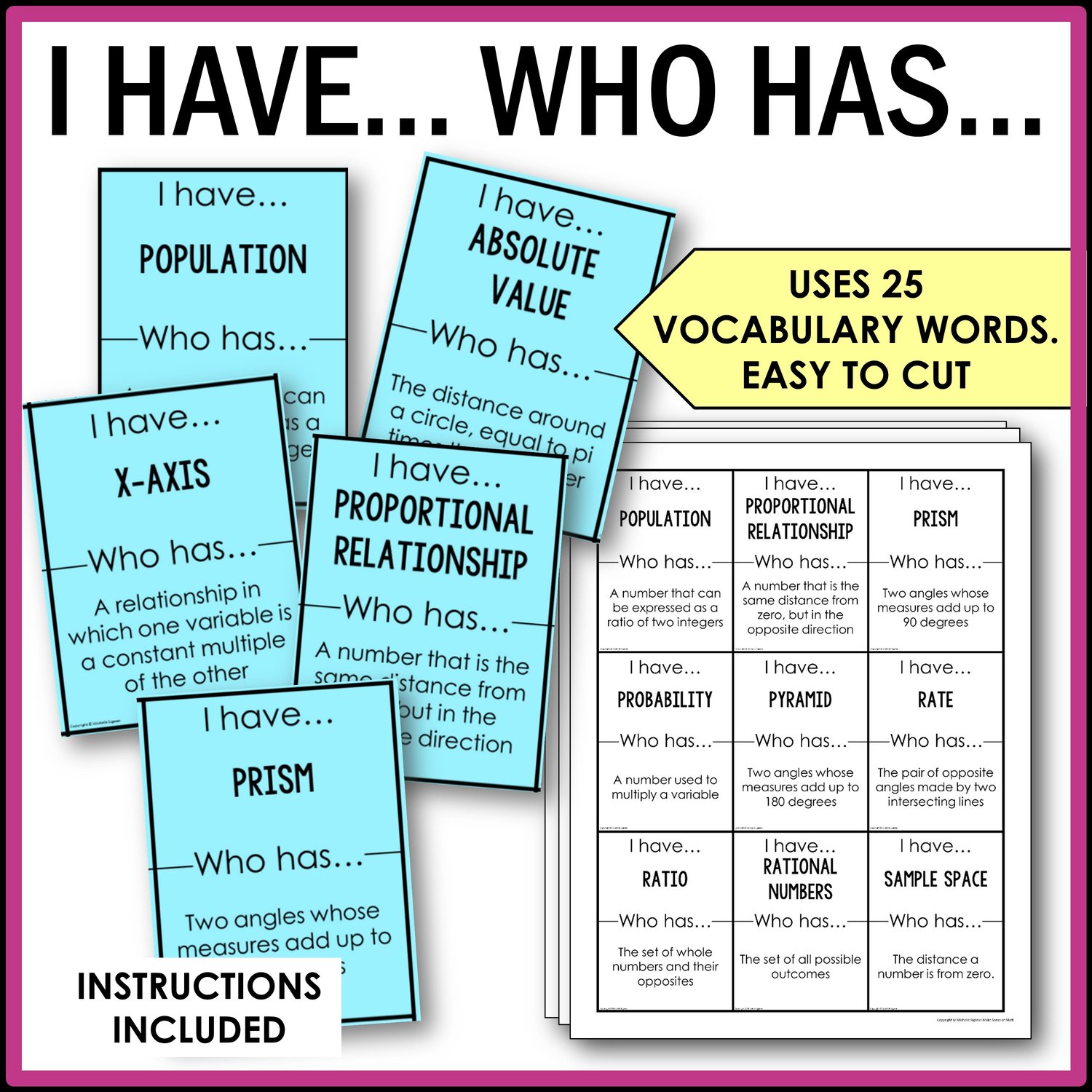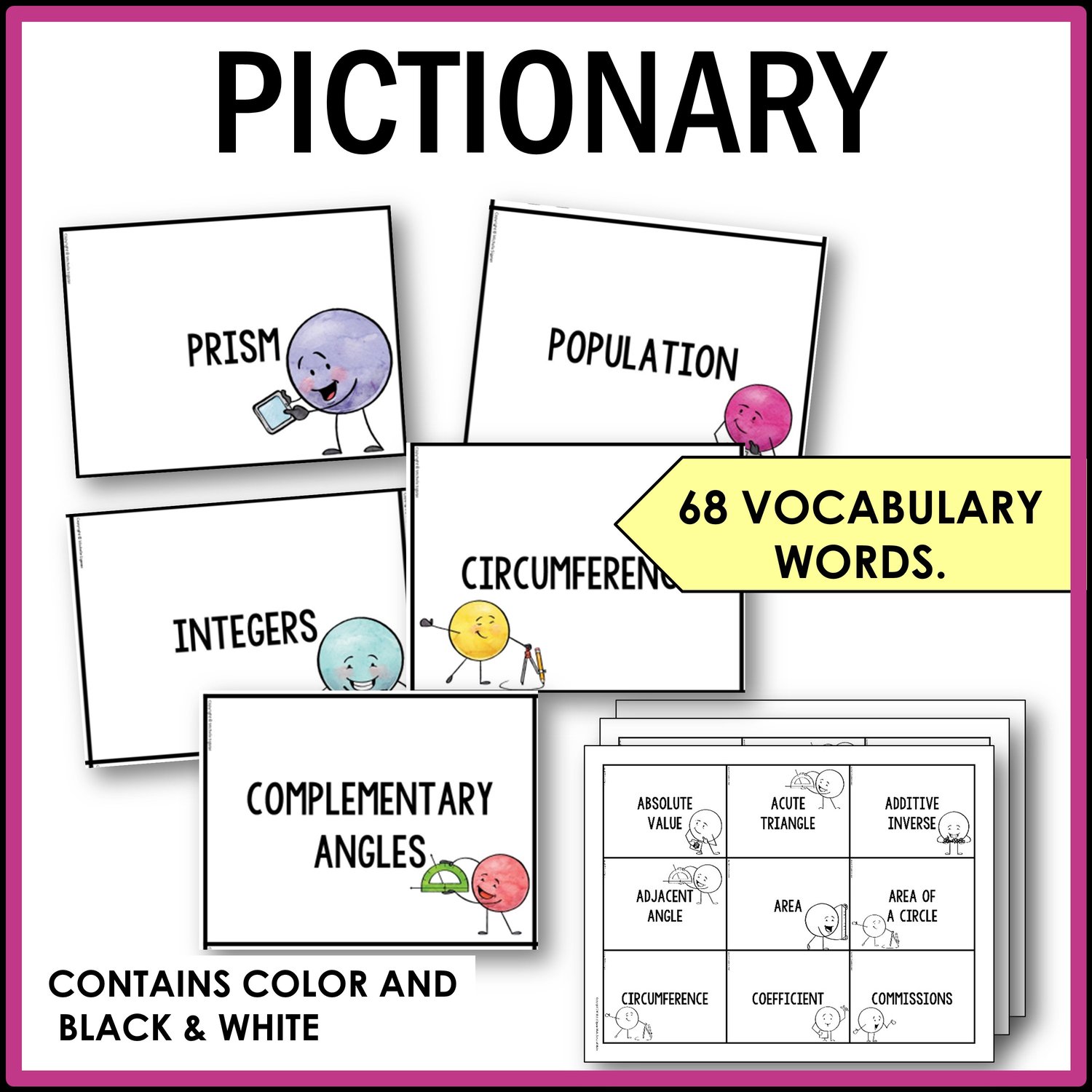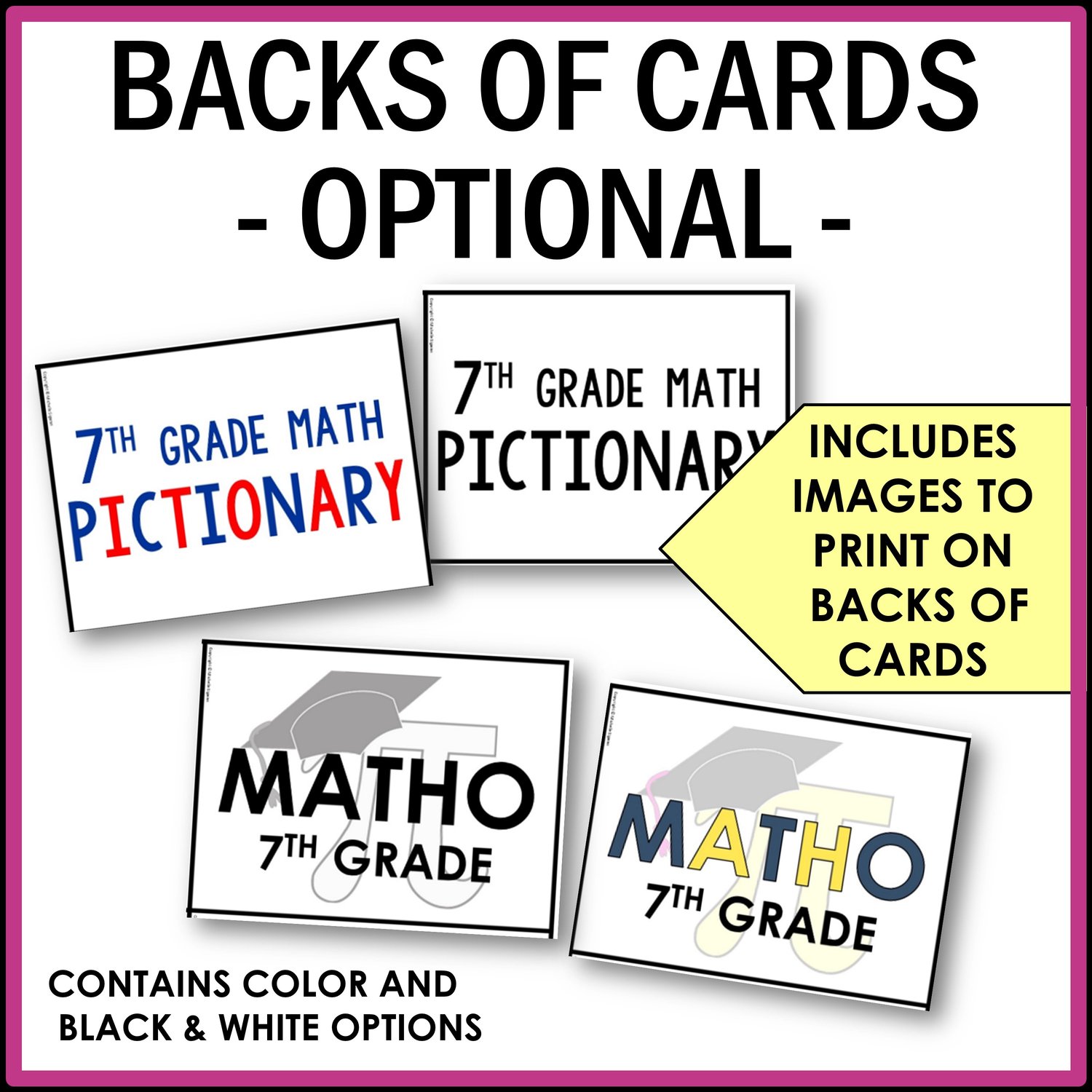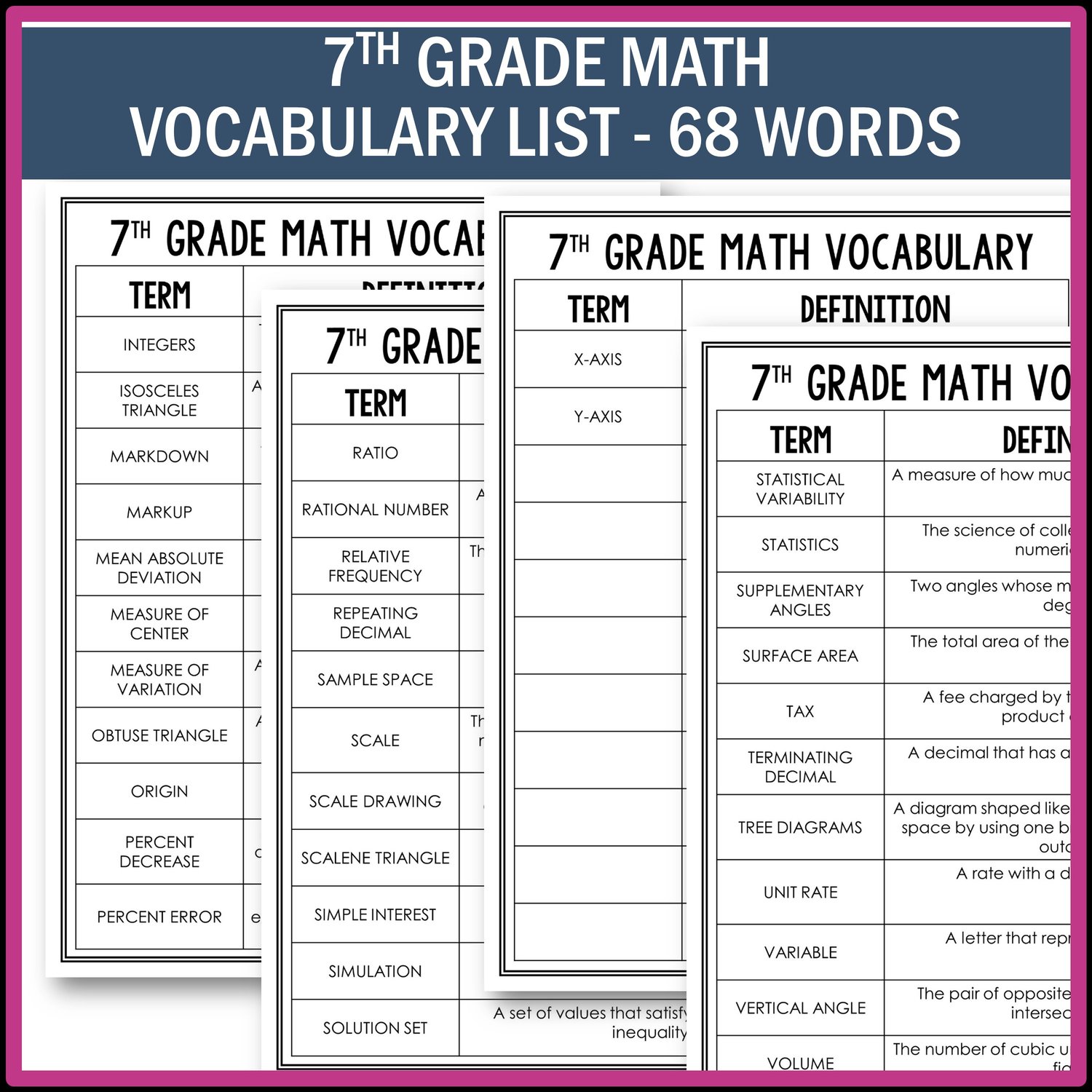 7th Grade Math Vocabulary Activities
Preview
CLICK HERE IF YOU WOULD RATHER PURCHASE THIS ON TPT
Your 7th grade math students will love these fun activities and games to learn 7th grade math vocabulary. These activities are perfect to review the words on your 7th grade math word wall. Includes a vocabulary list and 4 activities/games to include in your 7th grade math classroom.
What's Included
7th Grade Math Vocabulary List
68 words and definitions
Check the preview to see all the words
Define & Draw Activity
Research has shown that drawing a vocabulary word improves recall regardless of the quality of the sketch.
Students will define and sketch a visual for 68 vocabulary words.
Perfect to fill out throughout the year
Also includes space to add your own vocabulary words
I Have... Who Has...
Uses 25 vocabulary words.
Fun game to review vocabulary
Instructions included
Easy to cut out cards
Pictionary
Includes cards for all 68 vocabulary words
Students draw a picture of the chosen card while students guess
Create a competition in your classroom with teams
Includes color and black & white options
Includes optional image to print on back of cards
MATHO (Like BINGO)
Cards for 68 vocabulary words
Blank MATHO cards (available in 4 sizes)
Teachers chooses 24 vocabulary words for the game
Students randomly write the words on the MATHO cards
Includes color and black & white options
Includes optional image to print on back of cards
Graphic Organizer
One graphic organizer that includes space for the vocabulary word, definition, visual, example, and non-example
Please feel free to contact me with any questions!
Michelle,
Make Sense of Math
No refunds will be given. Please contact me for any questions. 😊
One purchase is for one teacher/family. You may only use this item with students in a single classroom/family. 
Copyright © Michelle Sigaran Make Sense of Math, All Rights Reserved.
This item is also bound by copyright laws. Redistributing, editing, selling, or posting this item (or any part thereof) freely on the Internet are all strictly prohibited without first gaining permission from the author. Violations are subject to the penalties of the Digital Millennium Copyright Act.